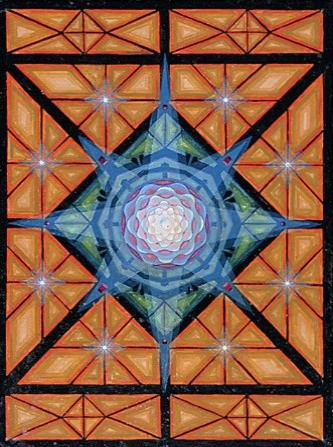 The Guild's logo is taken from a painting by C G Jung called 'Window to Eternity', which comes from his Red Book where he recorded and painted his dreams and visions.
The mandala, a symbol of human wholeness and of the process of individuation, is a fundamental aspect of Jung's psychology.
"With the help of these drawings I could observe my psychic transformations from day to day. Only gradually did I discover what the mandala really is: 'Formation, Transformation, Eternal Mind's eternal recreation.' And that is the self, the wholeness of the personality, which if all goes well is harmonious, but which cannot tolerate self-deceptions. My mandalas were cryptograms concerning the state of the self which were presented to me anew each day." (Memories, Dreams, Reflections. C G Jung).
This image, 'Window to Eternity' by the Guild's founding patron, eloquently captures the relationship between spirituality and Jungian psychology – the essence of the Guild. This logo was adopted in 2006 and the Guild is grateful to the estate of C G Jung for allowing the use of this image.