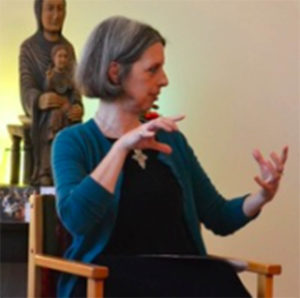 Monica Tobon holds a BA in Philosophy and an MA and PhD in Classics (Ancient Philosophy), all from University College London, where she is an Honorary Research Fellow in the Department of Greek and Latin.
Her work with Evagrius is a continuing journey of personal formation begun as a teenager drawn to Qabbala and Hermeticism. She left school at sixteen and worked in a variety of casual roles until, inspired by the birth of her son, she returned to education, pursuing full-time studies while working part-time as a temporary secretary to support her family. She graduated in 1995 and completed her MA in 2002.
Her doctoral research was funded by the Arts and Humanities Research Council and focused on Evagrius' doctrine of apatheia, but was delayed by illness. However, both the experience of illness and the traditional Chinese remedies and mind-body practices with which she supported her Western medical treatment decisively informed her understanding of Evagrian asceticism and anthropology. Upon receiving her doctorate in 2010 she joined the Franciscan International Study Centre in Canterbury as a sessional lecturer and remained there until its closure in 2017, lecturing in Philosophy, the Franciscan Intellectual Tradition, and the History of Christian Spirituality.
Since 2017 she has devoted herself full time to research and writing, and her first monograph, Apatheia and Anthropology in Evagrius of Pontus, is forthcoming from Routledge. As well as several papers on Evagrius, she has published on Gregory Nazianzus, Gregory of Nyssa, Dionysius the Areopagite, Bonaventure, disability in the early church, and points of contact between Christianity and Daoism, and she has further publications forthcoming on Evagrius and Dionysius.
She lives in rural Kent with her cats and sings Gregorian chant Vespers daily with the Benedictine nuns of Minster Abbey.
Last updated August 2021